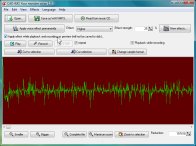 Create you own crazy voice effects. Speak into the microphone and hear your voice at the same time through the speakers. But it will not be your voice. It will be the voice of a monster, killer, alien or any crazy voice you can think of. You can save your recorded voice as mp3 or wav file. You can read in existing mp3 files or music CDs. The program ships with a couple of predefined effects. But you will be able to create new effects using simple formulas to map one frequency to another frequency. The formula for the build in robot voice is:
x*(1-stark)+((len / 2-1-x)*x / (len / 2))*stark
for example. Simply try to change the existing formulas to create your own effects and your own monster voice.